A HOUSE INSPECTION CAN OFFER YOU PEACE OF MIND
Let's face it, purchasing a home is stressful! Home Pro Inspectors Inc. offers a professional home inspection that can help drive away your worries by giving you a significantly better understanding of what to expect from your prospective home purchase. Your home inspector will help you become acclimated to your future living space, familiarizing you with potential repair and maintenance needs so that you can work out the best plan for moving forward. Whether you choose to pursue further negotiations with the seller, or you decide to close on the home in its current condition—you'll be able to do so with confidence. VIEW OUR SERVICES provided by professional home inspectors.
Two Inspectors, Total Commitment

Two Sets Of Eyes
With two highly qualified home inspectors, we perform the vast majority of our inspections together—putting two sets of eyes on a home to help us work more efficiently and accurately.

Attend Your Inspection
You're encouraged to join your home inspector during your house inspection. Doing a walk-thru at the end of the inspection gives you great insight. You will be able to see exactly what the issue is and have it explained in terms you can understand. More time to interact with you during the home inspection one-on-one will give you a direct line-of-sight into the property's various strengths and weaknesses.

Your Questions Answered
After a home inspection has been completed, you can rest assured that we're still committed to meeting your needs—if you have any questions about the information included in your home inspection report, your home inspectors are available to answer your questions.

What to Expect From Your Home Inspection Report
After a home inspection is over, we'll create an easy-to-read digital inspection report that will be delivered to your inbox within 24 hours. Not only will you receive detailed information about each readily accessible area of your prospective home, but you'll also be relieved to see that we've worked extra hard to make our house inspection findings accessible for clients of every background—so you won't need to be a construction expert in order to understand what we've discovered. Along with your home inspectors report, you'll also receive access to the innovative Create Request List™ (CRL)™ feature by HomeGauge.
The Create Request List™ (CRL)™
Use the CRL™ to review any of your home inspectors' findings that are listed as defective. This allows you to accept an item as-is or transfer the information over to your own personalized repair and request list. Make the most of your house inspection!
You have three request list options for every defective component you've selected from your home inspector's findings—repair, replacement, or monetary reimbursement.
The easy-to-use CRL™ feature can be accessed on virtually any personal computer, laptop, tablet, or mobile phone. Make the most of your home inspector's findings! Create a repair list right from your house inspection.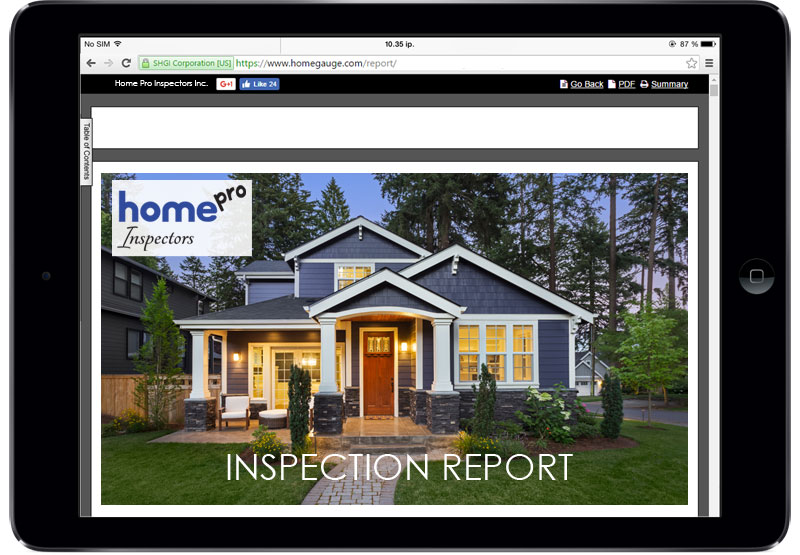 Serving Northern Indiana and Southwest Michigan
INDIANA HOUSE INSPECTION
Indiana, we have home inspectors that serve the towns of South Bend, Mishawaka, Granger, Elkhart, and the surrounding areas. 
MICHIGAN
For clients in Michigan, we serve Niles, Edwardsburg, Cassopolis, Dowagiac, New Buffalo, and the surrounding areas.
Contact Home Inspectors
Celeste Horein - HI #01800043
David Horein - HI #01800042
At Home Pro Inspectors Inc., we know that there are few things more important in life than having a safe and comfortable place to call home. That's why we offer a detail-oriented home inspection that will help to provide you with the information necessary to make an educated decision. Contact us today to request an inspection. 
For your convenience, we can set up appointments Monday through Saturday, including evenings. Contact us to ask about our discount for returning customers.
CALL FOR HOUSE INSPECTION (269) 325-4589
EMAIL: homeproinspectors@aol.com